MAURICE TRANCHANT L'ART D'ECRIRE
Maurice Tranchant
First issued: 1956
Reissues: 1998, 1999 (mousse gavroche), 2005
Catalogued 3B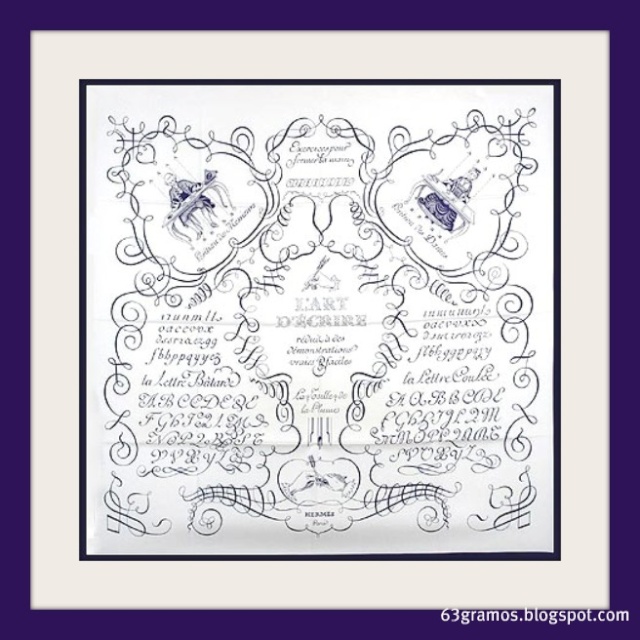 Today's post is especially dedicated to my dear friend
Hclub
because she is an adoring fan of this beautiful design and she is going through a tough time right now. I know she'll enjoy this entry and hopefully it will put a big smile on her face.
We both felt in love with L'Art d'Ecrire when we saw Kelly Rutherford wearing it on Gossip Girl (season 1, episode 9), and since then we have shared a mutual love for it.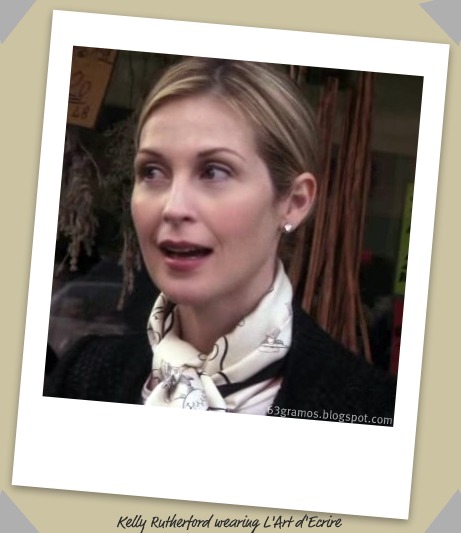 L'Art d'Ecrire, The art of writing, refers us to calligraphy: The art of producing artistic, stylized, or elegant handwriting or lettering.
The word calligraphy is derived from the Greek words
'killi'
and
'graphos'
, meaning "beautiful" and "writing".

The art of calligraphy as we know it today, finds its origins in cave paintings. As humans developed, the art of drawing pictures became quite highly developed and reached great heights under the direction of the Egyptians, who created the highly stylized hieroglyphics.
A few thousand years later, around 1000 BC, the Phoenicians went a step further and developed one of the first alphabets and writing systems. Being sea faring types, Phoenicians passed along their new skills to every seaport where they went. They influenced the Greeks who developed their own form of writing which by 850 BC the Romans adapted to suit the Latin language.

Latin was the lingua franca of the churches of Europe in the Middle Ages and the monks constituted the only literate members of society, they began to carefully scribe ancient texts into decorative books used by high-ranking church members and nobility members. Paper was expensive during the Middle Ages, so scribing monks developed a writing style that was narrower allowing more words to fit on a single line. This style came to be known as Gothic and lasted as a popular scribing technique throughout much of the Middle Ages.
By the mid-15th century, however,
Johannes Gutenberg
invented the printing press based upon the Gothic lettering of the monks. This new technique allowed faster printing of Bibles and threatened the métier of the monks. Although the use of the printing press spred worldwide, handwriting skills were still in high demand. As the arts bloomed during Europe's Renaissance, so did the art of calligraphy. The italic script was invented in Italy, and became popular throughout most of Europe.
One of the most special things about today's scarf is to know more about
Maurice Tranchant's
source of inspiration for this design. We find out as soon as we take a look at the center of the scarf:
In fact,
Tranchant
virtually transferred into silk the treatise
"L'Art d'écrire réduit à des démonstrations vraies et faciles...",
included in the Diderot and D'Alembert Encyclopedia.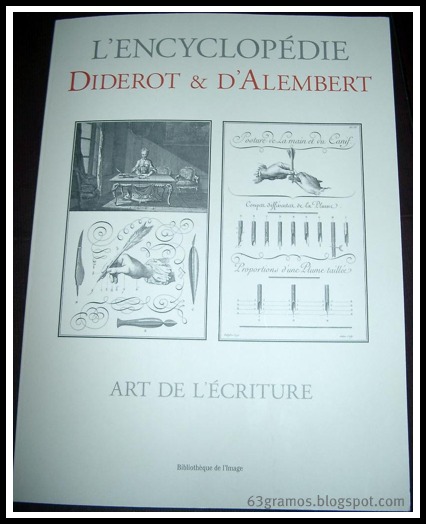 Denis Diderot
(October 1713 – July 1784) was a French philosopher, art critic, and writer. He was a prominent persona during the Enlightenment and is best-known for serving as co-founder and chief editor of and contributor to the Encyclopédie.
This stand alone volume of the Encyclopedia is a brief booklet of about 43 pages with 16 plates or illustrations, some of them are the exact source of
Maurice Tranchant's
inspiration:

Let's have a look at plates 2 y 3: "Materials and Correct Position to write for Men" and "Materials and Correct Position to write for Women". According to a survey conducted in 1877, 63% of the spouses were unable to sign their marriage certificate, it's no wonder then that a whole volume of the Encyclopedia was devoted to this subject.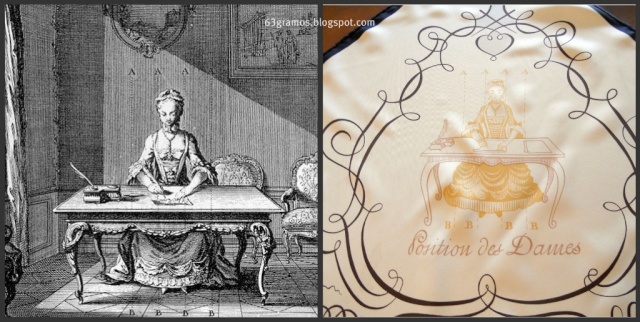 ... And so on... From plates 4, 5 and 6
Tranchant
got the illustrations about how to burnish and cut a quill, how to hold the quill different approaches and Traces and joints: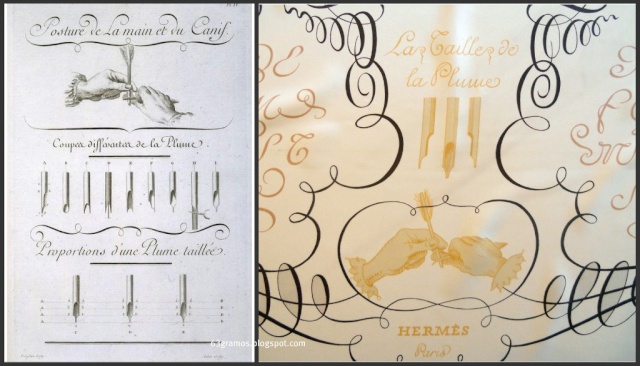 He also transferred the samples of lettering from plates 14, 15 and 16: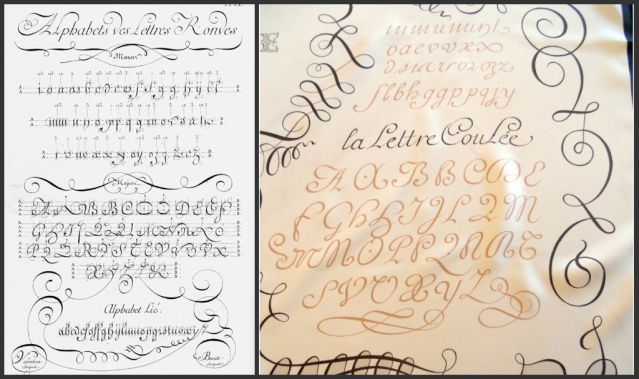 You can conclude that
Maurice Tranchant
was not a creative genius in designing this scarf as all the illustrations were copied from L'Encyclopedia. Anyway,
L'Art d'Ecrire
is one of the most beautiful scarves produced by Hermès and a very sought after design, it's a perfect gift for a graduation and a key piece of any classic wardrobe. I'm the lucky owner of two of them, a carré 90 and a 45 gavroche:
Other Tranchant's designs are:
Les Amorureux de Paris 1951
Ispahan 1966
Les Jardiniers du Roi 1967
Carrelages 1968
Grotte de Versailles 1969
Pavements 1970
Romantique 1973
Chanteclair 1974
Chanteclair II 1974
Imagerie 1974
I send a big hug to my dear friend Hclub wishing her lots of sunny days and beautiful things in her near future.